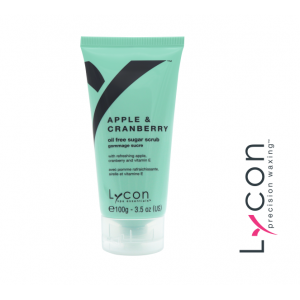 Excl. BTW:

9.05

Model:

LSSAP100

Merk:
Omschrijving
LYCON APPLE CRANBERRY SUGAR SCRUB 100gr
Heerlijke geurbeleving!
Een luxe olievrije Sugar Scrub van Spa-kwaliteit. Met de verfrissende werking van appel- en cranberry-extract. Een zachte scrub, die tegelijkertijd de huid voedt. Laat geen olielaagje achter dus voorkomt huiduitslag door verstopte poriën. Deze premium formule laat geen kleverige en korrelige restjes achter op de huid, waardoor de huid blijft ademen en vuil kan afvoeren. Excellent tegen ingegroeide haartjes, gebruik na het waxen of scheren. Hydrateerd de huid na het scrubben met LYCON Apple & Cranberry Hand & Bodylotion.
Wat doet de Lycon Apple & Cranberry Sugar Scrub
Deze zachte, effectieve scrubs voeden de huid en ontdoen haar van dode huidcellen, zonder een olielaagje of korrelige restjes achter te laten die de poriën kunnen verstoppen.
Gebruiksaanwijzing Lycon Apple & Cranberry Sugar Scrub
Breng de scrub met de hand of waxhandschoen aan op de huid en spoel vervolgens af met water.
Beoordelingen (0)
Beoordeel
Note: HTML-code wordt niet vertaald!
Verder