TYRO ONLINE WEBSHOP PRODUCTEN ACTIE!
Gebruik de kortingscode TYRO10 en ontvang standaard 10% korting op alle Tyro producten. Verzenden is al vanaf € 45,- gratis. De kortingscode TYRO10 kunt u gebruiken in het betalingsveld.
Hieronder het bestedingsbedrag met bijbehorend gratis Tyro product:
Vanaf 1 fullsize product of meer
Gratis Tyro luxe miniatuur 15ml t.w.v. € 5,50


Beschikbare miniaturen: Special Day & Night Cream E 15ml, Top Cleansing Gel 15ml, 24 Hour Skin Treatment 15ml, Violet Softening Lotion 15ml, Clarifying Tonic 15ml.

Wat is Tyro?
TYRO, HET VERHAAL
Dr. A. Molenaar een internationaal bekend plastisch chirurg, legde de basis voor TYRO met zijn wetenschappelijk onderzoek naar de beschermende en voedende stoffen in de baarmoeder. De ingrediënten die de babyhuid zo perfect maken. Inmiddels ontwikkelt TYRO ruim 25 jaar geavanceerde huidverzorgingsproducten met een team van farmaceuten, dermatologen en voedingsdeskundigen.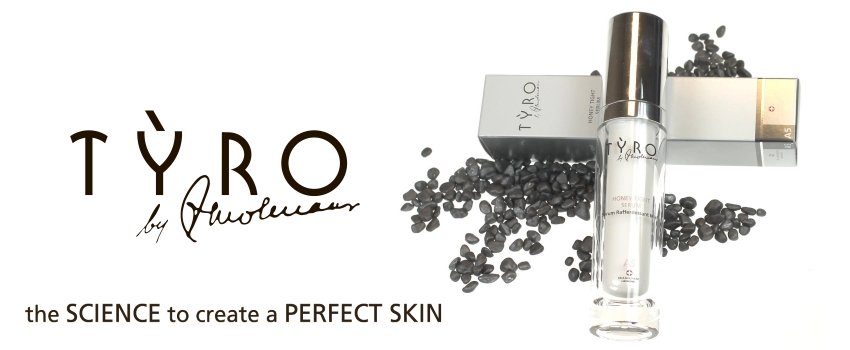 TYRO, STATE OF THE ART
Cosmeceuticals zijn wetenschappelijk ontwikkelde producten, met biologisch actieve ingrediënten, die een bewezen effect op de huid hebben. Deze actieve ingrediënten helpen niet allen het aanzien van de huid te verbeteren, maar beïnvloeden ook de huidvernieuwende processen die plaatsvinden in de diepere lagen van de huid. Daar helpen ze de stamcellen in de huid te beschermen en de omgeving waarin zij zich bevinden in goede conditie te brengen. Intelligente combinaties van topkwaliteit grondstoffen, geïnspireerd door de natuur en met wetenschappelijk bewezen ingrediënten voor zichtbare resultaten.
TYRO, DE FILOSOFIE
TYRO heeft het revolutionaire NCPi® systeem ontwikkeld, een uniek inside-out en outside-in huidverzorgingssysteem dat een complete huidverzorging biedt. Met state of the art Cosmeceuticals voor een optimale verzorging van de buitenkant en krachtige Nutraceuticals voor een heilzame voeding van binnenuit. Een geavanceerd en wetenschappelijk bewezen systeem met effectieve natuurlijke bestanddelen. De formules bevatten Phytoceuticals en ultra geavanceerde ingrediënten, die niet alleen aan de oppervlakte, maar zelfs tot op het niveau van de diepere huidlagen en huidverbeterende processen stimuleren. Resultaat? Uw huid kan zichzelf weer optimaal herstellen, vernieuwen en beschermen.
Er zijn geen producten in deze categorie.