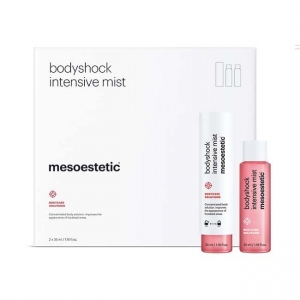 Excl. BTW:

66.12

Model:

T-PBOD0048

Merk:
Omschrijving
MESOESTETIC BODYSHOCK INTENSIVE MIST 2x 35ml
Mesoestetic Bodyshock Intensive Mist
Spray met intensieve werking, geformuleerd met het zeer doeltreffende complex [meso]adipoactive complex™ om plaatselijk in te werken en het silhouet te definiëren. De combinatie van mariadistelextract, cafeïne en Arnica-extract versterkt de werking van het complex en vermindert cellulite-imperfecties zichtbaar. De lichte formule met een onzichtbare finish en een gemakkelijk aan te brengen nevel maakt het tot het perfecte product om te gebruiken vóór het sporten. Het gecombineerde gebruik met de andere producten van de bodyshock-lijn intensifieert en versterkt de doeltreffendheid van de behandeling. Dankzij de actieve bestanddelen met stimulerende en verstevigende werking, voelt u na gebruik een intense warmte of een tintelend gevoel op de aangebrachte zone. Dit effect kan variëren naargelang de persoon, de dag of het moment van de dag waarop het wordt aangebracht. Dit gevoel is te wijten aan het effect van de actieve bestanddelen op de zone. Het is tijdelijk en moet niet worden verward met een ongewenst effect.
Beoordelingen (0)
Beoordeel
Note: HTML-code wordt niet vertaald!
Verder