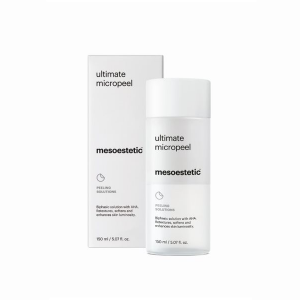 Excl. BTW:

40.50

Model:

T-DHIG0010

Merk:
Omschrijving
MESOESTETIC ULTIMATE MICROPEEL 150ml
Mesoestetic Ultimate Micropeel
Micro-exfoliërende behandeling die een zachte vernieuwende werking op het huidoppervlak uitoefent om dode huidcellen te verwijderen, de textuur te verfijnen, onzuiverheden te verwijderen en onmiddellijk de uitstraling van het gelaat te verbeteren.
Huidconditie
Mesoestetic Ultimate Micropeel is geschikt voor alle type huid.
Gebruik Mesoestetic Ultimate Micropeel
Breng 1x of 2x per week aan na het reinigen van de huid. Schud het flesje goed en breng het product aan op een watje. Verdeel over het gelaat. Geef extra aandacht aan de zone met grove poriën of onzuiverheden. Laat gedurende 2 minuten inwerken. Spoel na gebruik grondig het gelaat met lauw water.
Voordelen Mesoestetic Ultimate Micropeel
milde exfoliant
zeer geschikt voor donkere huiden
maakt de huid zachter
maakt de huid gladder en stralender
Beoordelingen (0)
Beoordeel
Note: HTML-code wordt niet vertaald!
Verder