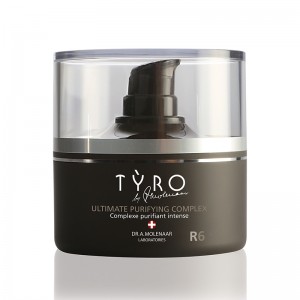 Excl. BTW:

44.55

Model:

TY4645

Merk:
Omschrijving
TYRO ULTIMATE PURIFYING COMPLEX 50ml
Intensieve gezichtscrème voor een gecombineerde of vette huid met onzuiverheden. Een innovatieve oplossing verrijkt met een uniek 5-in-1 complex om onzuiverheden doelgericht aan te pakken en te behandelen en de vorming van nieuwe imperfecties te helpen voorkomen: Reguleert de activiteit van de talgklieren, verhelpt verstopte talgklieren door het verwijderen van dode huidcellen, beschermt sebum tegen oxidatieve schade, heeft een unieke, specifiek hygiënische werking die onzuiverheden aanpakt en verfijnt de poriën. Fijne lijntjes en rimpels vervagen. Voor een frisse, perfecte en gezond uitziende huid. Geschikt voor de gecombineerde of vette huid met onzuiverheden.
TIP: "Gebruik in combinatie met TYRO Ultimate Purifying, Ultra Purifying Concentrate en ervaar de unieke synergie van geavanceerde werkstoffen, die zowel van binnenuit als van buitenaf de huid beïnvloeden. Voor optimale huidverbetering."
Beoordelingen (0)
Beoordeel
Note: HTML-code wordt niet vertaald!
Verder